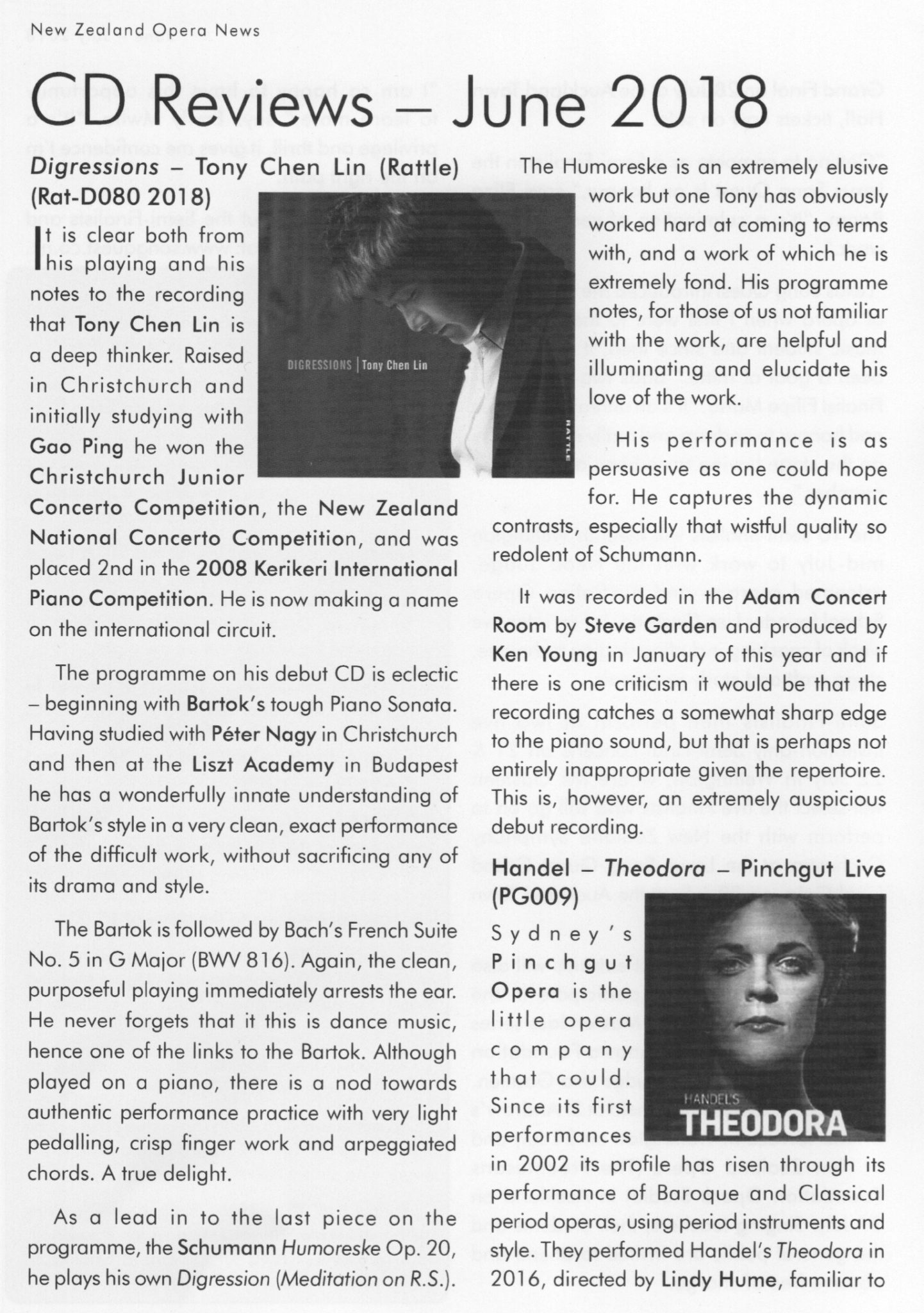 New Zealand Opera News
CD Review: DIGRESSIONS
Review: Garth Wilshere
June 2018
DIGRESSIONS - Tony Chen Lin (Rattle) (Rat-D080 2018)
It is clear both from his playing and his notes to the recording that Tony Chen Lin is a deep thinker. Raised in Christchurch and initially studying with Goo Ping he won the Christchurch Junior Concerto Competition, the New Zealand Notional Concerto Competition, and was placed 2nd in the 2008 Kerikeri International Piano Competition. He is now making a name on the international circuit.
The programme on his debut CD is eclectic - beginning with Bartok's tough Piano Sonata. Having studied with Peter Nagy in Christchurch and then at the Liszt Academy in Budapest he has a wonderfully innate understanding of Bartok's style in a very clean, exact performance of the difficult work, without sacrificing any of its drama and style.
The Bartok is followed by Bach's French Suite No. 5 in G Major (BVN 816). Again, the clean, purposeful playing immediately arrests the ear. He never forgets that it this is dance music, hence one of the links to the Bartok. Although played on a piano, there is a nod towards authentic performance practice with very light pedalling, crisp finger work and arpeggiated chords. A true delight.
As a lead in to the last piece on the programme, the Schumann Humoreske Op. 20, he plays his own Digression (Meditation on R.S.). The Humoreske is an extremely elusive work but one Tony has obviously worked hard at coming to terms with, and a work of which he is extremely fond. His programme notes, for those of us not familiar with the work, are helpful and illuminating and elucidate his love of the work.
His performance is as persuasive as one could hope for. He captures the dynamic contrasts, especially that wistful quality so redolent of Schumann.
It was recorded in the Adam Concert Room by Steve Gorden and produced by Ken Young in January of this year and if there is one criticism it would be that the recording catches a somewhat sharp edge to the piano sound, but that is perhaps not entirely inappropriate given the repertoire. This is, however, an extremely auspicious debut recording.