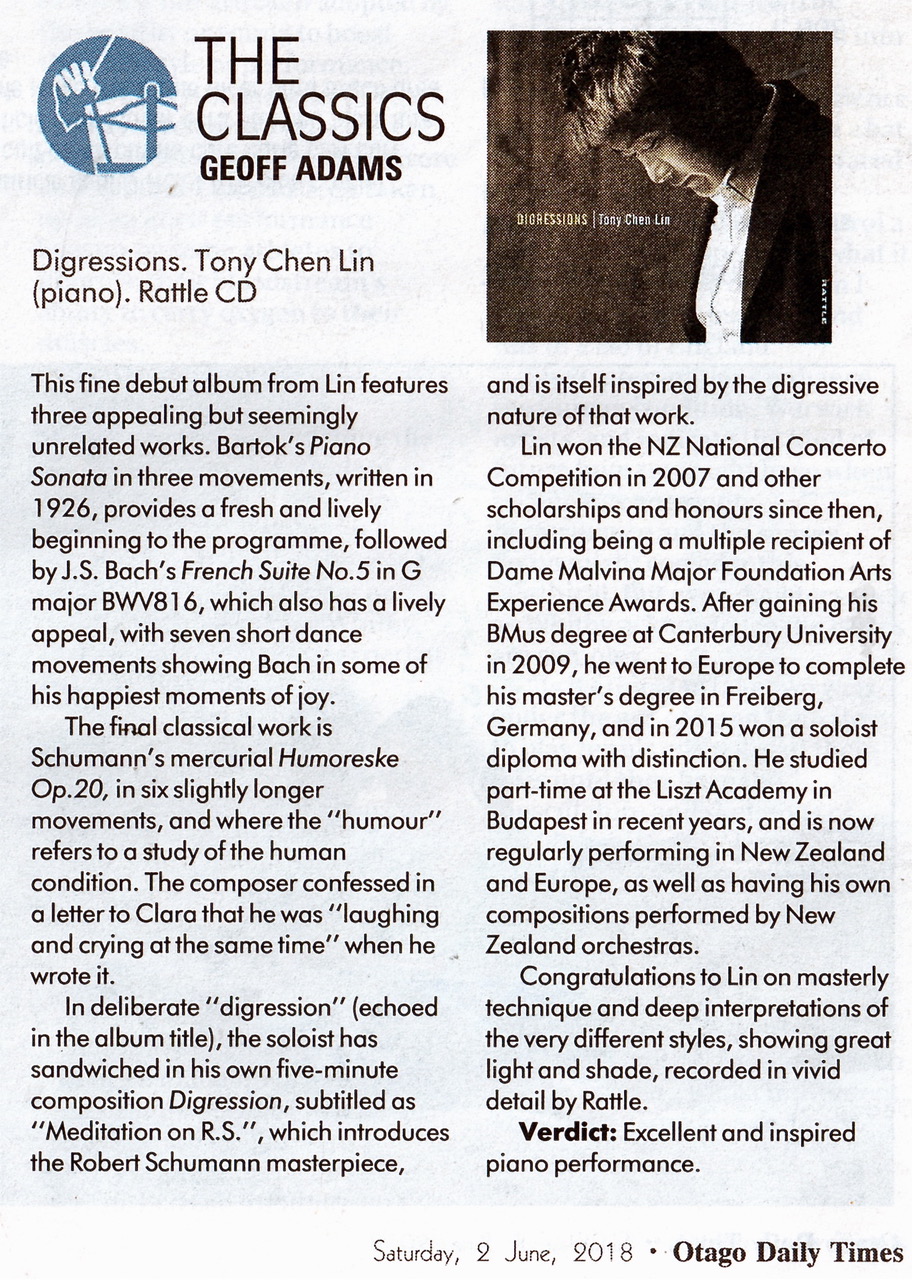 Otago Daily Times
CD Review: DIGRESSIONS
Review: Geoff Adams
June 2nd 2018
DIGRESSIONS - Tony Chen Lin (Rattle) (Rat-D080 2018)
This fine debut album from Lin features three appealing but seemingly unrelated works. Bartok's Piano Sonata in three movements, written in 1926, provides a fresh and lively beginning to the programme, followed by J.S. Bach's French Suite No.5 in G major BWV816, which also has a lively appeal, with seven short dance movements showing Bach in some of. his happiest moments of joy.
The final classical work is Schumann's mercurial Humoreske Op.20, in six slightly longer movements, and where the ''humour'' refers to a study of the human condition. The composer confessed in a letter to Clara that he was ''laughing and crying at the same time'' when he .. wrote it.
In deliberate ''digression'' (echoed in the album title), the soloist has sandwiched in his own five-minute composition Digression, subtitled as '' Meditation on R.S. '', which introduces the Robert Schumann masterpiece, and is itself inspired by the digressive nature of that work.
Lin won the NZ National Concerto Competition in 2007 and other scholarships and honours since then, including being a multiple recipient of Dame Malvina Major Foundation Arts Experience Awards. After gaining his BMus degree at Canterbury University in 2009, he went to Europe to complete his master's degree in Freiberg, Germany, and in 2015 won a soloist diploma with distinction. He studied part-time at the Liszt Academy in Budapest in recent years, and is now regularly performing in New Zealand and Europe, as well as having his own · compositions performed by New Zealand orchestras.
Congratulations to Lin on masterly technique and deep interpretations of the very different styles, showing great light and shade, recorded in vivid detail by Rattle.
Verdict: Excellent and inspired piano performance.