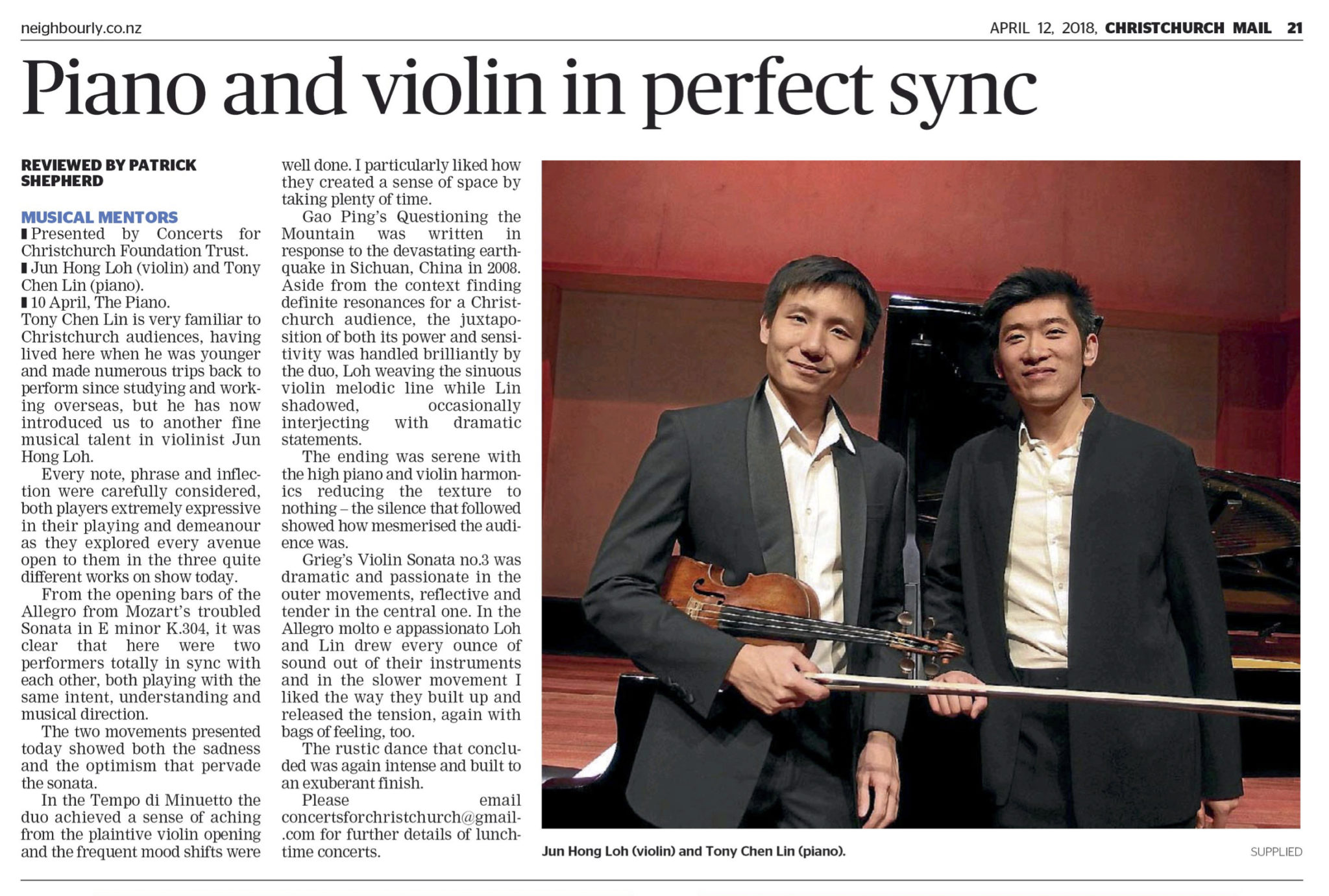 Christchurch Mail
Tony Chen Lin (piano) and Jun Hong Loh (violin)
Review: Patrick Shepherd
The Piano, Christchurch.
10 April, 2017
Tony Chen Lin is very familiar to Christchurch audiences, having lived here when he was younger and made numerous trips back to perform since studying and work­ing overseas, but he has now introduced us to another fine musical talent in violinist Jun Hong Loh.
Every note, phrase and inflec­tion were carefully considered, both players extremely expressive in their playing and demeanour as they explored every avenue open to them in the three quite different works on show today.
From the opening bars of the Allegro from Mozart's troubled Sonata in E minor K.304, it was clear that here were two performers totally in sync with each other, both playing with the same intent, understanding and musical direction.
The two movements presented today showed both the sadness and the optimism that pervade the sonata.
In the Tempo di Minuetto the duo achieved a sense of aching from the plaintive violin opening and the frequent mood shifts were well done. I particularly liked how they created a sense of space by taking plenty of time.
Gao Ping's Questioning the Mountain was written in response to the devastating earth­quake in Sichuan, China in 2008. Aside from the con text finding definite resonances for a Christ­church audience, the juxtapo­sition of both its power and sensi­tivity was handled brilliantly by the duo, Loh weaving the sinuous violin melodic line while Lin shadowed, occasionally interjecting with dramatic statements.
The ending was serene with the high piano and violin harmonics reducing the texture to nothing-the silence that followed showed how mesmerised the audience was.
Grieg's Violin Sonata no.3 was dramatic and passionate in the outer movements, reflective and tender in the central one. In the Allegro molto e appassionato Loh and Lin drew every ounce of sound out of their instruments and in the slower movement I liked the way they built up and released the tension, again with bags of feeling, too.
The rustic dance that concluded was again intense and built to an exuberant finish.
Please email concertsforchristchurch@gmail@com for further details of lunchtime concerts.